Poly B™ Plumbing & Replacement in Kelowna & Vernon, BC
Looking to replace your outdated and problematic Poly B pipes in Kelowna or Vernon, British Columbia? You're not alone. Many homeowners in Canada are opting to replace their Poly B piping systems with a more durable and reliable alternative.
What is Poly B™ piping?
Poly B™ piping — short for polybutylene piping — is a type of plastic plumbing pipe that was widely used in commercial & residential plumbing systems from the 1970s to the mid-1990s. It gained popularity as a cheaper alternative to copper piping, which was more expensive at the time.
Poly B™ pipes are made from a flexible plastic material known as polybutylene, which is resistant to corrosion and boasts a high heat resistance. Its flexibility makes it easier to install in tight spaces, reducing installation time and costs.
Distinct colors of Poly B™ piping include gray for interior plumbing and blue for exterior water service lines. Poly B pipes typically have copper or brass fittings, though some systems were installed with plastic fittings. It was commonly found in locations such as water meters, underneath sinks, and behind walls.
Despite its initial popularity, Poly B™ piping has significant drawbacks that led to its banning in new homes & buildings in Canada in 2005 (National Plumbing Code of Canada).
Problems With Poly B Plumbing
Poly B plumbing now has a negative reputation in the plumbing industry. Despite its initial popularity for being cost-effective and easy to install, there are numerous problems associated with Poly B plumbing.
Poly B pipes are not compatible with chlorine and other chemicals commonly found in water supplies. High chlorine levels can cause the pipes to become brittle and deteriorate, resulting in leaks, bursts, and water damage to homes.

Hot water can weaken Poly-B piping, leading to cracks and leaks near your hot water tank or water heater.

Tight fittings can stress poly-B pipes. Acetal pipe fittings were commonly used with poly-B in the 70's and have been found to contribute to leaks and failures.

Poly-B plastic pipes are not very flexible. Bending poly-B pipes too much can cause them to crack or break, leading to leaks.

The life expectancy of poly-B piping is shorter than copper. Leaks typically start to occur after 10 to 15 years of use, which can result in costly repairs and water damage to homes.
Due to the numerous problems, most insurance companies charge an annual premium for homes with Poly-B.
Many homeowners opt to replace poly-B piping with alternative materials like copper or PEX piping.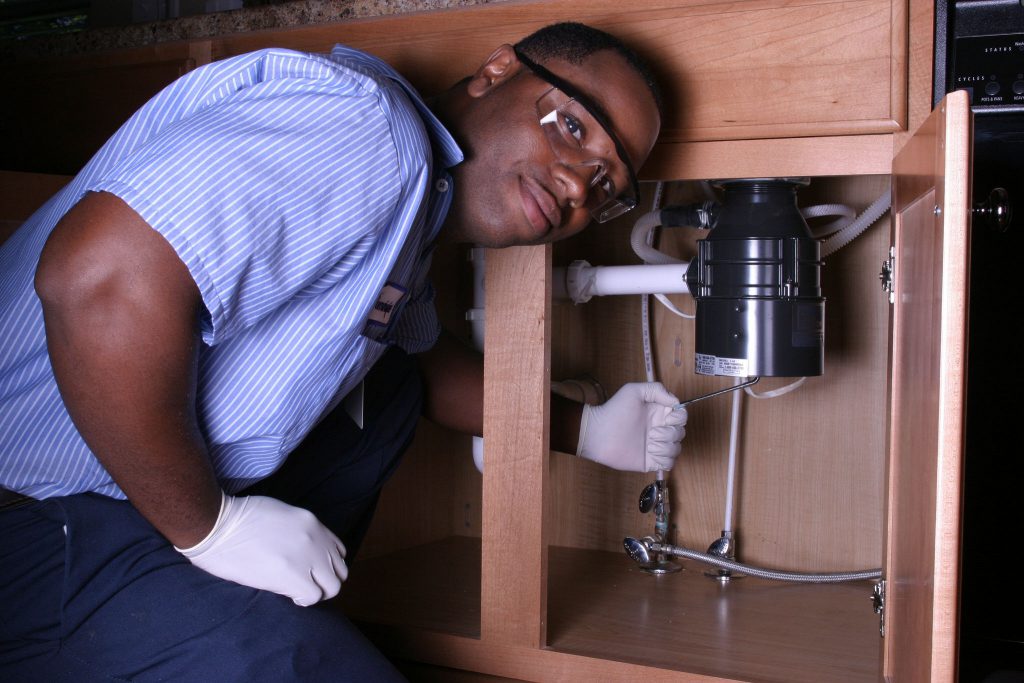 Solutions for Poly-B Pipe Replacement
If you are considering replacing replacing polybutylene pipes in your home, there are three main options to choose from: copper pipes, PEX pipes, and PVC-CPVC pipes.
Copper pipes with brass fittings are a popular choice due to their durability and long lifespan. Copper is a corrosion resistant material that can withstand high water pressure. One drawback of copper pipes is that they can impart a metallic taste to your water, especially if water has been sitting in the pipes for a while.
PEX pipes are one of the most popular replacement options for Poly-B pipes. They are highly flexible, resistant to freeze damage and don't require soldering, making them a convenient and easy to install option. Since UV rays can damage PEX pipes, they're not suitable for outdoor use, and they may not be the best choice for areas with extremely high water temperatures.
PVC-CPVC pipes are known for their temperature resistance and affordability. They are commonly used for hot and cold water supply systems. However, PVC-CPVC pipes are not as strong as metal pipes and they may be prone to cracking or breaking under certain conditions.
If you'd like to speak with a professional plumber to help you make an informed decision, call Roto Rooter Canada or book an appointment. We'll walk you through your options and ensure a successful pipe replacement process.
Cost to Replace Poly-B Piping
The cost to replace Poly-B piping can vary depending on factors like the size of the property, the extent of the plumbing system, and the replacement material.
If you live in the Okanagan Valley, British Columbia, contact Roto Rooter to assess your situation and get an accurate cost estimate to replace your home's old Poly B pipes.
While the cost to replace Poly-B piping may be a significant investment, it is essential for the long-term integrity and functionality of the plumbing system, providing homeowners with peace of mind, lower insurance premiums, and potentially avoiding costly repairs in the future.
PEX Pipes Replacement Cost
PEX (cross-linked polyethylene) pipes are made from a specialized type of plastic that's more flexible, durable, and corrosion resistant than Poly-B, making it a reliable choice for long-term use.
PEX plastic is a good thermal insulator, which makes your house & hot water heater more energy efficient by keeping hot water hot as it flows through your pipes. PEX plastic pipe systems also reduce noise from high pressure water flow to keep your home quiet and comfortable.
Unlike rigid copper pipes, PEX pipes can be easily bent and maneuvered around corners, making installation fast and simple.
The cost of PEX pipes replacement The total cost of replacing Poly-B with PEX pipes can vary depending on the size of your home, the number of fixtures, and any specific requirements unique to your plumbing system. Homeowners typically spend between $2,500 to $10,000+ to replace Poly-B with PEX, which includes the materials needed, labor costs, and any additional work required, such as removing the old Poly B piping.
Copper Pipes Replacement Cost
Copper pipes have been a staple in plumbing systems for decades and are known for durability, reliability, and excellent heat conductivity.
Copper pipes are also corrosion resistant, low maintenance, and recyclable.
The cost of replacing Poly B pipes with copper pipes can vary depending on various factors such as the size of your home, the number of bathrooms, and the complexity of your plumbing system. On average, the cost for residential houses with 2 to 3 bathrooms ranges from $3,000 to $18,000 or more.
While the cost of replacing Poly B pipes with copper pipes may be higher than PEX, the durability and longevity of copper pipes make them a worthwhile investment for your residential plumbing system.
Ready to Replace Your Poly B™ Pipes in West Kelowna, Kelowna, Lake Country, or Vernon, BC?
Tired of living with unreliable Poly B™ piping? Ready to make an investment that increases your property value?
Join countless homeowners in West Kelowna, Kelowna, Lake Country, and Vernon, BC, who have made the smart choice to upgrade their plumbing systems. At Roto Rooter, we bring decades of experience and a team of licensed plumbers ready to transform your home's plumbing system.
Don't wait for a Poly B™ plumbing disaster to strike. Your home deserves the best, and we're here to deliver it.

Why Choose Roto Rooter?
Experience You Can Trust: With years of service in the Okanagan, we understand the unique challenges that Poly B™ plumbing presents. Endorsed by over 240 glowing 5-star Google reviews, you can trust us to get the job done right.

Licensed Professionals: Our acclaimed team of licensed plumbers has the expertise to tackle any plumbing project, big or small. Your satisfaction and safety are our top priorities.

Peace of Mind: Say goodbye to the worries of leaks, bursts, and costly repairs. Our plumbing company offers proven solutions that will stand the test of time.
Contact us today at 778-760-3792 or use our convenient online booking system.
Let's discuss your options and provide you with a tailored solution that fits your needs and budget.
Wolfman
September 19, 2023
Booking appointment was easy, plumber arrived right on time I feel that the service provided was professional and thorough. Got the membership which saved me money immediately, as well as any service I might need in the next year. Preventative inspection of our sewer turned out to be timely intervention before a sewer back up. We now have piece of mind.
Karen Wolfe
September 18, 2023
We have been working with RotoRooter for the past year in identifying and resolving drainage issues at our strata. Liam and team are amazing, and we have always been impressed on the responsiveness and quality of service.
Michael Bond
September 18, 2023
Quality work, kind and professional technicians.I would recommend and I will hire them again for any plumbing work.
Holly Kadlec
August 27, 2023
I had an emergency on a Saturday. There was a leak in a pipe below my water shutoff so it had to be dealt with. Nathan arrived within an hour. He spent 3 hours fixing the issue. He was a life saviour!!
We had a weird plumbing issue and Nathan was the one that they sent to see me. He was super knowledgeable very skilled in his work and eventually it resolved what like I said was a very weird situation amazing I would highly recommend them. And don't be afraid to ask for Nathan you will get a good guy!!!
Haile Habtegiorgis
August 25, 2023
Responsive, on time, and very professional.
Armaan Sidhu
August 24, 2023
Very good service. .
Rene Haudenschild
August 19, 2023
Job well done!